ARE YOU LOOKING FOR WAYS TO GIVE BACK TO THE COMMUNITY?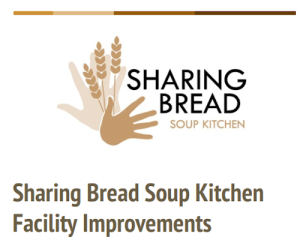 WE HAVE AN OPPORTUNITY FOR YOU!
"People in our own community are going to bed hungry without the Soup Kitchen. It offers the opportunity for volunteers to share their time and show their compassion with those who are less fortunate. Serving here shows others that they are loved and valued in our society. The Soup Kitchen is on the front lines of the COVID-19 pandemic as witnesses and responders to the destruction it is causing to families and those in our community." Shannon Mills, Executive Director
The Sharing Bread Soup Kitchen is in need of Facility Improvements. We are looking for volunteers to help out with things like painting and tearing down a shed.